The first year of your baby's life will be filled with lots (and lots!) of changes and many firsts! During this year they'll experience many milestones worth documenting. From a tiny little newborn to a rambunctious toddler eager to discover the world, your child's first year on Earth will be filled excitement! But which milestones are worth hiring a professional photographer for? Below I uncover the five key milestones that are just too important to DIY.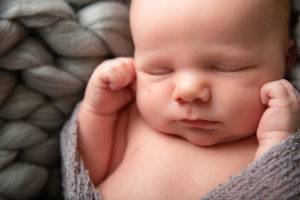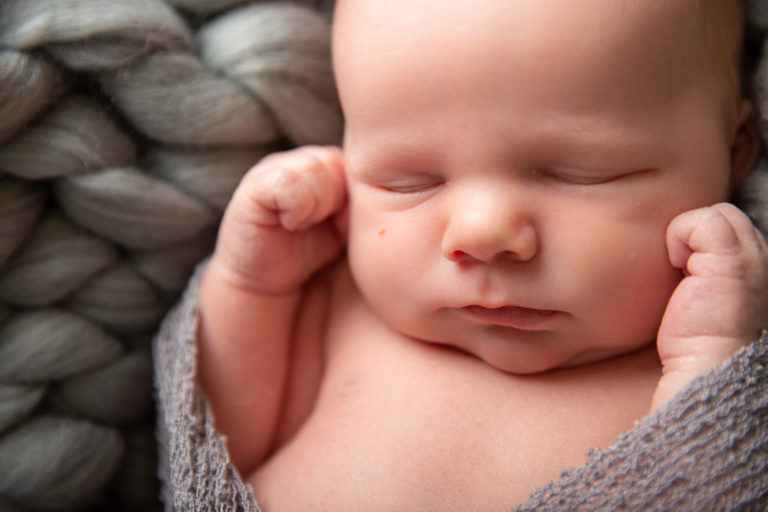 The newborn stage is so, so short, so it's all the more important to capture it in its prime, as this is your child's very beginning, and moments you'll want to treasure forever! Newborn photos will document everything, from those sleepy yawns to the details of those brand new fingers, toes and faces. In order to highlight these momentous features, I recommend that you schedule your newborn photography session for when your child is between 5-10 days old.
Tummy time is the next milestone your baby will accomplish, and while you will start doing tummy time with your baby around 2 to 3 months, they typically aren't happy tummy time pros until 41⁄2 to 51⁄2 months. This portrait will be the first where your baby will actually be able to interact with the camera and smile! He or she will have tripled in size since that sweet, sleepy newborn session. Their hair and eye color may have changed, as well as their personality coming through those precious smiles! While that newborn stage is the sleepiest time for your baby, the tummy time stage will showcase them taking the whole world in. Wide eyes and great big expressions!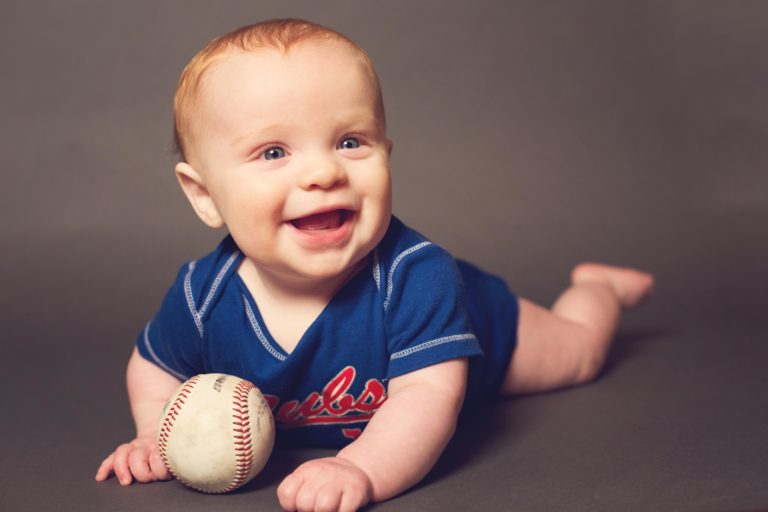 This stage is my second favorite to the newborn stage, as babies are at their chunkiest (and I love me some baby rolls)! Most babies are able to sit by themselves safely between 61⁄2 to 71⁄2 months old. I find babies are at their happiest during this stage. It's easy to capture his or her fun personality! This stage is particularly ideal for clothing them in adorable outfits because now that he or she is sitting up you can see more of their clothes.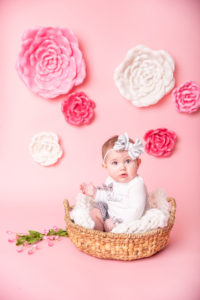 The Standing Up and Walking Milestone
Babies can start walking as early as 81⁄2 to 9 months (crazy I know!). They grow so fast! The standing up or walking stage can be captured anywhere between 81⁄2 to 12 months as each baby will reach their milestones at a different rate. Whether your child is standing while holding onto items or actually walking, dressing her in an outfit with matching shoes can be a fun way to coordinate with your home interior and picture frames!
The First Birthday Milestone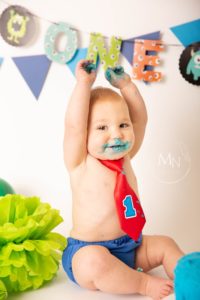 By the time your child's first birthday rolls around, he probably is enthusiastically feeding himself, so it best to show this stage with a good old messy cake smash! This is, arguably, the most fun session of them all! Bring a special outfit for those 1 year old portraits, then prepare to get messy! I will have a set ready with any of your favorite colors or themes with a coordinating cake for him to dive into. Never fear though, after the cake is done, we'll wrap up the session with a super fun bubble bath!
You can see examples of each of these precious stages in my Baby Photo portfolio. I would be honored to document all of your baby's first year so if you have questions or would just like to connect, please contact me today!
Mallory@mallorynymanphotography.com
(309)351-1196